I KNEEEEW IT!! Someone out there owes me $10 I think. Totally owes me. Remember that post I made earlier, all about knowing they had to teach Rob to drive, just like teaching him to run, to basically do anything physical besides sitting. Well, here's some proof.
I wonder how just flabbergasted the crew must have been this morning:
"Gather around everyone. Here are your assignments. Joe, you'll be doing lighting, Bob, you are running grip, Sandy you'll be in a bright yellow vest directing traffic, Gary, you'll be running traffic assistance"
"Whoa whoa, directing traffic?"
"Um yes, we'll need to teach Robert Pattinson how to park a car today. You'll need to be in a bright yellow vest, because we understand he knows next to nothing about machinery and he just might run over you. Only because it will make Kristen giggle of course and he loves making her laugh"
"Teach him to drive you mean. Any idiot can park a car".
"Nope. Just to back the car, you know, backwards, in a massive open parking lot, just a few feet"
"Like parallel parking right, something pretty complex? Because teaching parallel parking would require a bright yellow construction vest"
"Nope Sandy. Just teaching him how to reverse. Just reverse".
[[internal thoughts of Sandy]] Should we really be letting him learn how to reverse near a playground? Small children could die. Maybe we should put them in yellow vests too...
The good news is that Rob did not have to run over and kill any crew members just to get Kristen to laugh. I think the sheer fact that she was forced to sit in a car as Rob learned to REVERSE was hilarious enough.
"Do I turn this way when moving backwards"?
No, Maybe this way
What is this button? Don't touch that button sir. Don't do it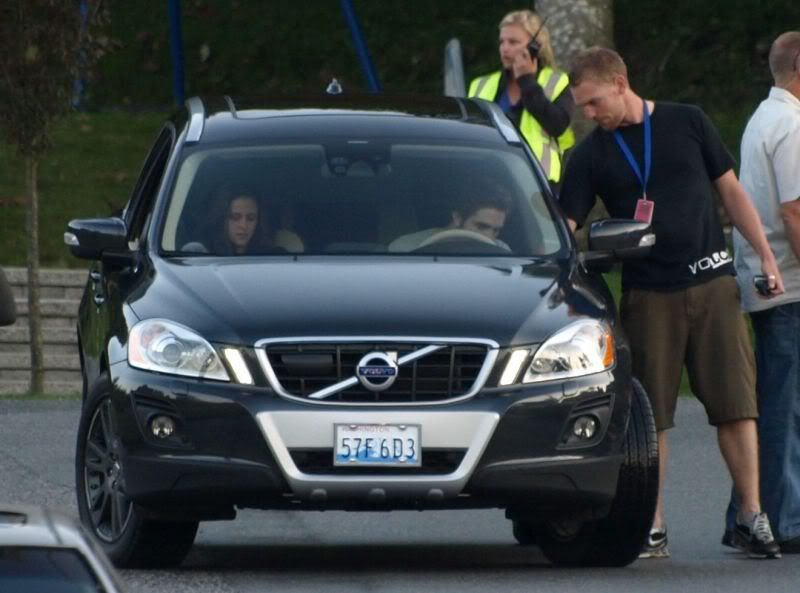 Kstew has broken into utter "giggle" cause I think that's the only level of laughter and amusement she can actually reach. No real full laughter, just giggle.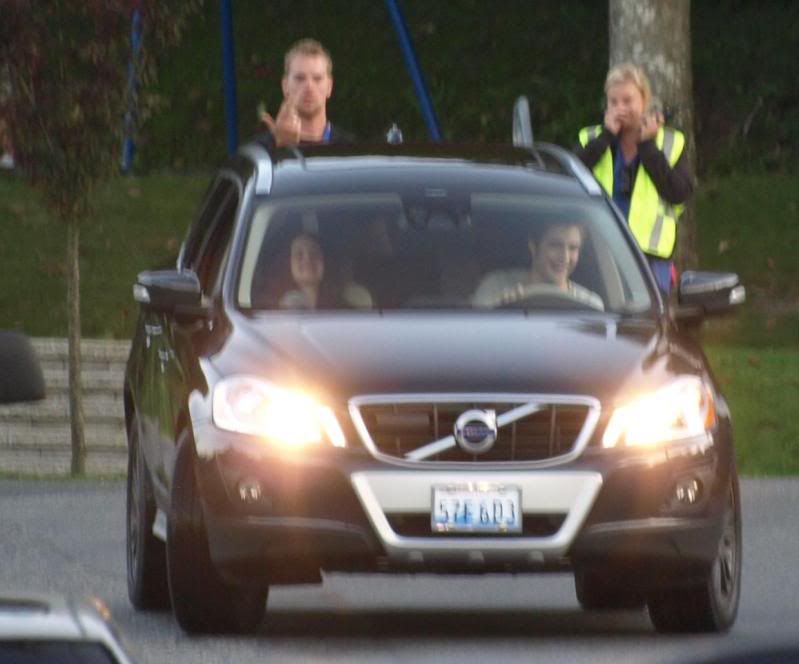 Yes dear readers, I know plenty of people grow up in an area where they never drive, never have a need to drive, and dear God, he grew up driving on the opposite side of the road. Learning to drive American style does not make me chuckle, nor would learning to parallel park. But I think just about anybody could figure out that reverse means reverse. I dont think we REALLY need to worry that much about seeing Edward Cullen reverse on screen so I dont eve know the point of teaching this anyways, or KEEPING Kristen in the car while it happens. Maybe she thought it would brighten her day.
Watch this gif-- its not exactly a straight line he's backing there. Maybe he's sipping on the same tipsy juice he had before the VMA's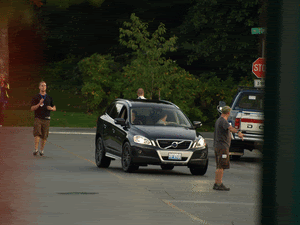 Go to
Twilight-gossip
to see even more