So a pretty high energy interview with 100 Monkeys. I literally have no idea who this guy is, or half the stuff they are talking about (thus making me feel out of the loop and very old). He also interviews like he is quizzing you on a test-- like a test of life or something! Jackson even comments that he feels like he's on a game show.
He also asks what Kristen Stewart TASTES like and he corrects this freaky guy that he does NOT drink her blood, but mainly attempts to. He also answers about The Last Airbender, and the hobbit hair wig he has to wear
Apparently the really big highlight of this is Robert Pattinson peeing in a cup during the concert because the bathrooms are so crowded. Eh, the highlight for me was Jackson doing his Disney 411 intro of the band, remembering his past history as a Disney 411 "news" corespondant.
Please, you much more highly enlightened people, tell me WHO this Nardwuar guy is!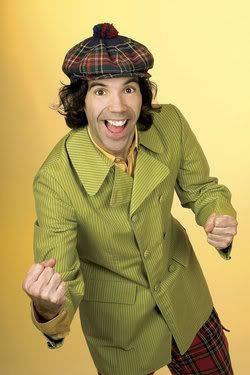 I looked him up and I guess he's more of a
local Canadian guy
Nardwuar the Human Serviette (born John Ruskin, July 5, 1968) is a Canadian celebrity interviewer and musician from Vancouver, British Columbia, Canada.[1] He is the lead singer and keyboardist for The Evaporators and plays in Thee Goblins. He is an indie-rock expert. [2]