Now Twisessed is joining the TwiVirgin Squad
Spoiler Free From Now On!
Yes, we caved! We watched that damn 4 min long clip of the Break Up that was circulating the TwiNet....and we wish we didn't
Not alone as Twifans, Twisessed, Twitarded and many others join, now joins
ApplesnFeathers
. And they are brave enough to commit to a purity pledge that also includes ECLIPSE, not just the next 27 days of countdown to New Moon
Why are we doing this you may ask? Are we just following a trend? Nope, although purity pledges seem to be gaining momentum (see the pretty pic on the right?), we decided to do this mostly because we want to be excited, the same level of excitement as when Twilight came out.
Note ANF's version of True Love Waits.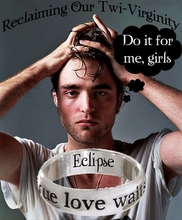 Now we also have to face the music from Super Secret Twilight Blog. She was a good girl, a girl with a pure heart and a pure intention. She swore and took the oath of TwiVirginity back in MAY. And now she thinks we all need a little kick in the pants as we all drown in our sorrow over watching the Eddie/Bella clip (well I didn't watch but you know).
Don't say she didn't warn you.
Apparently EyesofAmber was also smart enough to make the pledge back in May, the actual inspiration for SSTwilightblog

MyTwilife joins the crew but seems to be struggling with relapse.
She's been strong enough thus far to resist the break up scene though