Taylor L has attended, not 1, but two Taylor Swift concerts in the last few days.
Check out him in the front row and then the long long embrace at the end, around the 5:30 mark. I have to admit that he literally just stares when she's singing. She's on a rotating platform, which is why the video "pic" shows her facing Lautner. She finally spins to face TayL and is singing the chorus "When you're 15 and somebody tells you they love you, you'll believe them"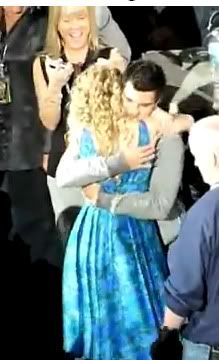 Better shot- this fan is incredibly lucky. About 5 seats away from Lautner, great perspective of both. You can see him stare while everyone else is talking, laughing, moving. He just doesn't really move his eyes at all. This one is worth watching all the way through, shows the hug from about 3 feet away
Because its literally hilarious to me how fans respond, watch this video of her hugging him from a different angle (same concert, but
much much
louder). Start watching at 3:50. Turn your speakers down too, its LOUD.
If you want even more video, this is before the concert started, Tay entering the concert before Swift has even entered the stage. Watch the noise level go up and fans rush the pit area for pictures, starting at :33. He stands really nicely for pictures
I cannot speculate as to what this means in any way. The only FACTS I know are:
Taylor has attended two concerts recently
Taylor L sat with Taylor Swift's mother at concert #1 (pretty big deal to me)
Taylor L made a movie with Tay Swift recently, called Valentines Day. Filming this can't hurt: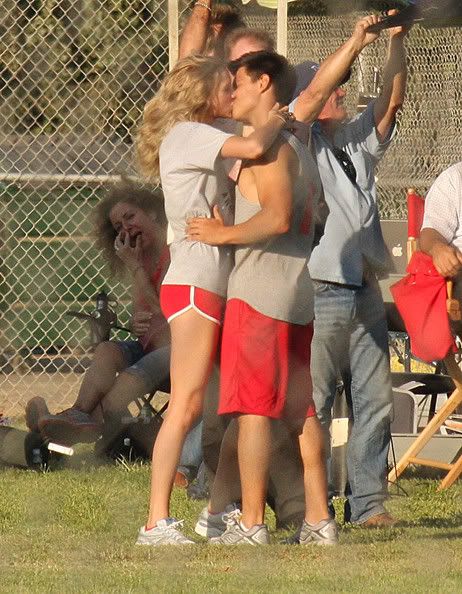 (GEEZ TAY!)
Is the goal just to pump up media coverage of the "relationship" just to further ticket sales for their upcoming movie? Maybe.
An extra JUST CUTENESS is an interview of Kstew and Taylor and they say they'll go on American Idol together and perform a Taylor Swift song
We all know TayL presented TaySwift the award at the MTV's