So Hot Topic has updates on the New Moon Cast and Band Tour and instructions. Sounds limited!

The Twilight Saga: New Moon Tour is ready to take the nation by storm! Want to get into one of the events? Here's what you'll need to do! Go to any of the Hot Topic locations listed below at 8:00AM on October 31st, 2009, and purchase a commemorative The Twilight Saga: New Moon Tour T-shirt. You'll get a wristband* that'll give you access to the event at the location you purchase your T-shirt from. Cast members will be announced soon, but in the meantime, check out the dates and locations below to see if the tour is coming to a city near you!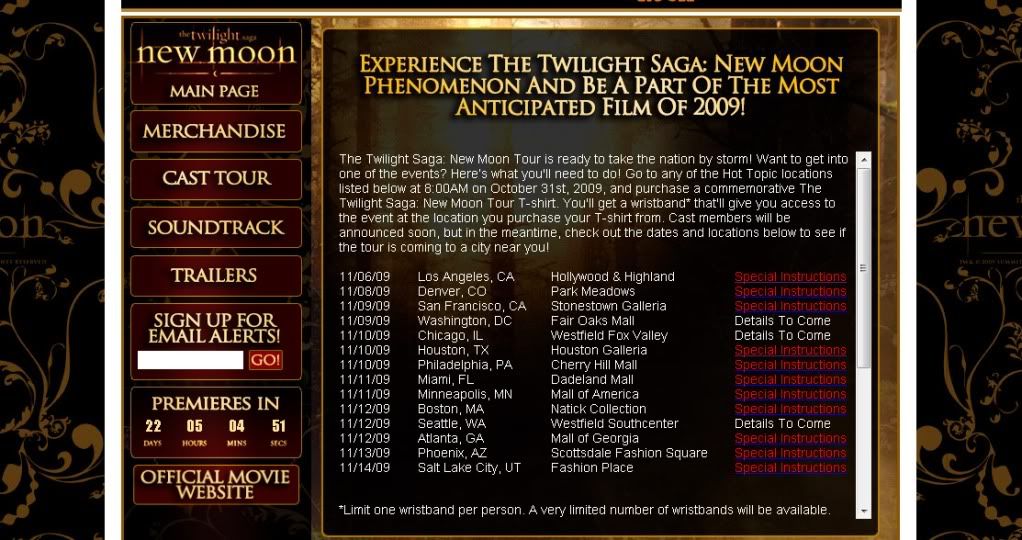 Example instructions for Houston

Houston Galleria

The Hot Topic New Moon Pre-Event to get wristbands begins at 8:00 am Saturday, October 31, and the queue line will be located on level two of the parking garage just outside the Southeast entrance. Starting at 8AM customers will be escorted into the Hot Topic store to purchase the exclusive New Moon Tour T-shirt for $30 to receive a wristband* that guarantees the opportunity to meet cast members from the film on 11/10.

*Taxes not included. Limit one wristband per person. Only 500 wristbands are available.