Well thank you Blue October. You put together the missing puzzle piece that helped explain to me exactly why I adore Breaking Dawn, why it's my favorite book in the entire series. And why....
*looks around
the room at the
normal Twilighters
*waits for the room to clear
* anxiously and nervously waits for Twihards to drop their hard back books so as not to stone me to death in discussing...
*whispers*
why the birth scene is my favorite scene of them all.
Yes. THAT Scene is my favorite scene of the entire series.
The graphic birth. The death of Bella. The death of Jacob and Bella. The death of their possible future.
I love Renesmee. I know I'm even more in left field at this point and most of you have stopped reading because I am clearly insane. But I do. I love the character of Renesmee, and I love the relationship between Jacob and Ness.
I even love her name.
But there are times I still grieve that Jacob is not with Bella. Because to be honest, the fight for her heart is what Twilight was about for me. The trio. The holy trinity of Twiland. Jacob. Bella. Edward. Not the introduction of mortal enemies or the fact that they are also mythical creatures. Just the pure honest emotion that existed in the different relationships and how they all actually needed each other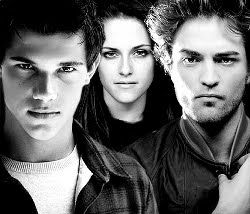 I'll also say it-- I think Twilight would have SUCKED if it had continued as a series without the introduction of Jacob. Even if Edward had stayed and never left, Jacob was a required and necessary introduction to the mix. Because Edward frankly isn't perfect, and Jacob had just as much a right to be in her life as Edward did. Jacob gave to Bella what Edward did not and could not. Jacob provided safe harbor and friendship, grief counseling and a shoulder that was warm (ha literally). Jacob mended and fixed and soothed. Jacob was a sun.
Jacob was required to propel the story forward. So the truth is that I got comfortable with the constant back and forth of "will she pick HIM or
him
"
.
Sometimes I didn't even want her to decide because I couldn't imagine it all ending, as heartbreaking and torturous as it was to continue dragging out the balance between Jacob and Edward.
So as we drug closer and closer to the final answer as to whom Bella chooses (and it didnt' happen at the wedding IMO, despite the actual comittment to Edward) I was dreading the finality of it all. Because it meant Twilight was over, and Bella chooses and there wouldn't be much else to say. And I surely didn't want that to happen.
I think Stephenie captured perfectly the emotion of that final scene, of the final moments of the relationship as we all knew it, the moment before it ALL changes, and all that we knew to be true
stops
. She commits "Someone to Die For" as the anthem of this pivotal moment, when the cross the line and go past the point of no return. This is it. This is the final moment. This IS the end
DON'T LET IT BE OVER!
Isn't this part of what we loved about Twilight? The intensity. The deep seriousness that was imbedded in a teen fiction series about sparkly vampires that we all found, and that gripped us by the hearts? The fact that we were so immersed in this story, that in the height of Bella choosing Renesmee, choosing life, she decides Renesmee is someone to die for. And Jacob and Edward feel the same about Bella.
Stephenie posted this song to go along with the chapter, and let me tell you. I"ve never heard it without crying. My husband played it on our last day in Forks, and we are pulling out of town listening to it. I didn't think I'd be able to drive.
Jacob never was my favorite character. I intensely hated Jacob the first 45 times I read the series. I just wanted him out of the way of the perfect and complete relationship of E&B. But the truth is that they aren't perfect and Jacob DID fill a need in Bella's life that Edward just couldn't
So leave it to the dog to utter some of my favorite lines
You stay with me now, Bella! Do you hear me? Stay! You're not leaving me! Keep your heart beating!


Jacob Black, Breaking Dawn, Chapter 18, p.352



All the king's horses and all the king's men… But there was nothing there, just me, just him. Working over a corpse. Because that's all that was left of the girl we both loved. This broken, bled-out, mangled corpse. We couldn't put Bella together again.


Jacob Black, Breaking Dawn, Chapter 18, p.355



This was it, then. The ocean of pain. The other shore so far away across the boiling water that I couldn't imagine it, much less see it. I felt empty again, now that I'd lost my purpose. Saving Bella had been my fight for so long now. And she wouldn't be saved.


Jacob Black, Breaking Dawn, Chapter 18, p.356
And this is where Blue October steps in to explain to me exactly why I adored this part, this culmination of it all. Saving Bella had
been
Jacob's purpose. "Until your heart stops beating, I"ll be here, fighting". And her heart was no longer beating
We finally had an answer. The drama was over, there was no more "will she turn or not" or "Will she choose Jacob or Edward".
We had a decision.
But until Bella birthed Renesmee, it was still Edward, and Bella and Jacob. The three characters that MADE the series so intense, that made the books worth reading. Their relationship as a group was the entire point of becoming so invested.
The birth scene is the culmination of it all. The relationship between Jacob and Bella, as well all know it, officially dies. Bella officially became Jacob's "My Never". And while we know the outcome and the happy ending for Jacob, had the story ended right there, on that page, Jacob was left with nothing. No purpose and no drive. Her heart stopped beating and so did his.
Blue October captured perfectly the emotion of Jacob as Bella is choosing someone other than him, even to the point of death. Choosing even the life of Renesmee over Jacob, as she'd rather die and give life to Renesmee than possibly end that life to save hers and be with Jake. She is choosing someone else, and he was loosing her, even though she was "never mine to loose". He watches as the reason for him living, looses her own life. Justen Furstenfeld specifically states that he wrote this for Jacob as he looses Bella. He played this on the Breaking Dawn concert tour and Stephenie Meyer states that THIS is exactly where the song belongs in the series. As Jacob looks at Bella, and changes her in his mind from "my potential future" to "My Never". And Never is pretty final.
Dare you to watch this without getting choked up
For Edward, the relationship doesn't stop at Bella's death. If we all paid very close attention, we'll have noticed the clue that Stephenie Meyer dropped for us. We'd have been able to fortune tell the ending if we'd noticed. Jacob says he'll fight until her heart stops beating. Edward never does. In fact, Edward continues working on Bella, but the second that Bella's heart stops beating, Jacob's relationship with Bella is forever and permanently changed.
I knew it was too late. I knew she was dead. I knew it for sure because the pull was gone. I didn't feel any reason to be here beside her. She wasn't here anymore. So this body had no more draw for me. The senseless need to be near her had vanished. Or maybe moved was the better word. It seemed like I felt the pull from the opposite direction now. From down the stairs, out the door. The longing to get away from here and never, ever, come back.

"Go, then," he snapped, and he hit my hands out of the way again, taking my place this time. Three fingers broken, it felt like. I straightened them numbly, not minding the throb of pain. He pushed her dead heart faster than I had. "She's not dead," he growled. "She's going to be fine." I wasn't sure he was talking to me anymore.
Breaking Dawn pg. 355-356
It is not the birth of Renesmee that changed their relationship. I"d argue that Renesmee's existence (or the idea that she would exist) is what pulled Jacob and Bella together, it is NOT the birth or imprinting that changed it. Jacob pulled away from Bella before he ever imprinted. He did not lay eyes on the child and then decide "well see you later Bells, I got a new date to prom". Part of him, the part that was committed to the existence of Bella, died when she died.
Now I could also argue that his comittment to keeping her alive, in the end, was because by keeping her safe and alive, it ensured the birth of his imprinting source, the furthering of his blood line. And all that posturing is great and wonderful and makes sense. And we can hypothesize all day about why their relationship existed the way it did. But when we read Breaking Dawn the first time, before we
ever
flip the page to the shock and awe of Jacob imprinting, all we know at that point is that Jacob loved Bella and Edward loved Bella, and until this second, they were the point of the books. So when both of them are working on saving the very point of their existence, there is nothing more selfless and heartbreaking than the scene of mortal enemies working together to save a life they love.
I remember reading and thinking "This is it. This is where it all ends"
The story goes on, and there is a different "ending" to the actual series and the book itself. And I honestly love the ending. I love Renesmee, and the fact that Jacob DOES find happiness (if imprinting can be true happiness). I love the fact that it all gets tied up with a pretty little bow, because truthfully, I couldn't handle any more pain. And to be honest, what more did readers want? The actual decision, the point of the journey was if Bella would be with Edward or Jacob. That was decided. That was over. The potential died when Bella died. I couldn't handle one ore second of agony and heartbreak and I"m glad that Edward and Bella and all the other couples and families get
"Forever and Forever and Forever"
So in the end I love Breaking Dawn because it IS the ending in multiple ways. It's the final heartbreak, the biggest wish fullfillments, the ending of massive life changing relationships, and in the end still the beginning of something brand new. It's the very epitome of "when life closes a door, it opens a window". Breaking Dawn made me love Jacob and understand his role in this messed up triad. It's death and life all wrapped in one chapter. It's the greatest gift you could ever offer another human being- that no man hath greater love than to lay down his life for a friend