then I hope they are prepared for the absolute insanity about to overcome them as they embark on their breakneck speed whirlwind tour of the World to promote New Moon, as if they even needed to do that.
While in Vancouver there were tons and tons of paps surrounding them and stalking them, as well as what the cast calls Vultures (EXTREME fans stalking every single move, set, cast dinner, trip to the bathroom and more), the "Couve" in Vancouver was still just one town. Now the dynamic trio is about to break out of their hotel/den of sanity and take on the world. Bye Bye Vancouver, HELLO Loss of any semblance of privacy you ever thought you gained in the Couve.
Before I post any pictures, here is the rough schedule for the cast over the next 18 days so you start to understand the amount of pressure these KIDS are undergoing for the sake of all of us fans. If you think KStew always looks mad, then imagine losing your ability to sneeze without someone documenting it. Imagine Beatle-esque fandom and crowds at the age of 17 (yes that was last year, it's even bigger now).
As I write this, Kristen, Taylor and Rob all come home to L.A.. for 24 hours. They went to see the final screening of the movie, then hopped on planes yet again, as Rob headed to Japan and the duo of Jacob and Bella headed to Brazil. When they weren't heading on a plane somewhere, somehow they found time to do photoshoots for the millions of upcoming magazines (besides OK magazine I presume, nasty filth rag).They'll embark all over the world, city after city, interview after interview, picture and papparazzi and screaming fandom everywhere following their every move.
Pics of Kristen and Taylor in Brazil (not airport pictures, but official pictures)
via
@kstewarmy
All smiles here, but watch what happens later in the post as they were trying to get off the plane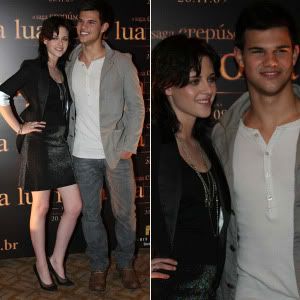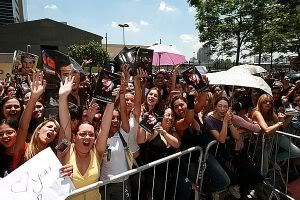 Reluctant or not to post this, I think sometimes it's fitting for fandom to see just how hard we make it for the cast. I really just flat out think it's a cop out for some fan, who doesn't have to worry about this kind of lifestyle, to say "well they asked for this kind of coverage, they are movie stars, they are millionares without us, this is part of what they signed up for". Really? They signed up to be harassed, stalked, pursued and at times injured? And they signed up for that kind of life for who? FOR US. There isn't any amount of money that makes this worth it
Fresh off the 15-hour flight the British actor was met by hundreds of Twilight fans who had waited hours to catch a glimpse of the star. Pattinson will appear at a fan meeting in Tokyo.

Notice a certain Chris Weitz also in the background. He looks a tad overwhelmed and worried over this whole thing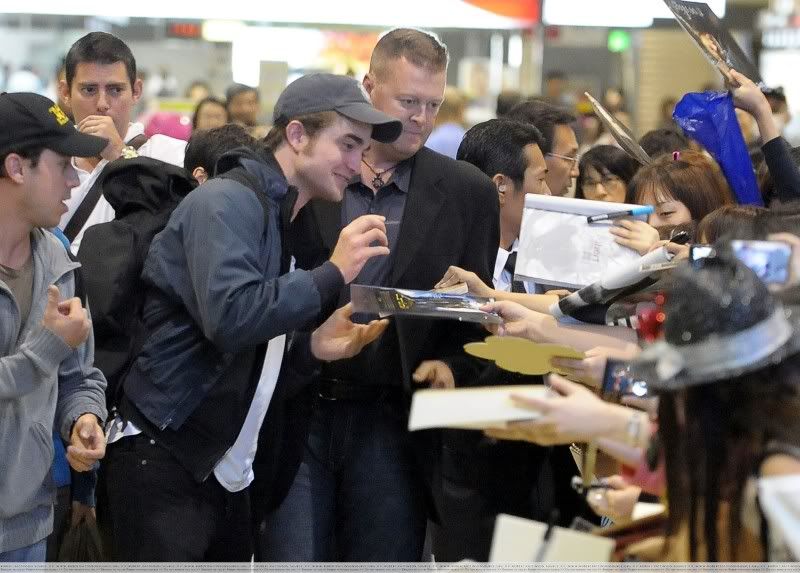 Robert, Kristen, Taylor Lautner ad Chris Weitz will be in Paris on November 10th for a press conference which will take place at l' Crillon hotel! There won't be a Premiere for the movie.
Gossip Cop
Reports these local U.S. appearances on TV
Today may be Halloween, but millions of "New Moon" fans know the vampires worth watching will haunt the night only after the calendar flips to November. And Gossip Cop just confirmed SIX more television appearances for cast members.
"Late Night with Jimmy Fallon" will have Kristen Stewart on November 18, Taylor Lautner on November 19, and Ashley Greene on November 24.
"Jimmy Kimmel Live" will have Peter Facinelli on November 25, Nikki Reed on December 2, and Ashley Greene on December 3.

Premiere is November 16th in L.A. for the cast
Lets not forget the cast appearances traveling until the movie for the next three weeks as well with Nordstroms and Hot Topic