And this is NOT Rob! I know this is what they "think" his wax figure should look like, but that's NOT ROB.
Yep something is just off. Just off. I"m not sure what it is- the nose? The eyes? Maybe they dared to mess with the jawporn? It's just not Rob
Here were the initial attempts before coloring and hair were added
I think it's the jaw. The jaw is off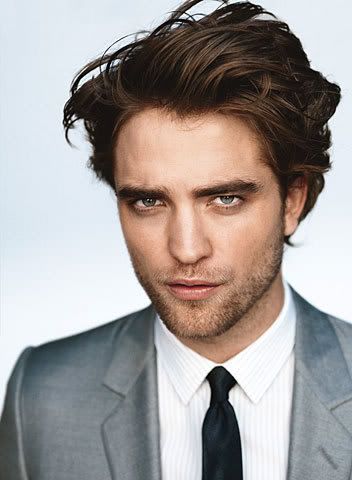 In case you want to go see this in person, it will be unveiled in New York on Thursday. According to their Facebook:
EXCITED CROWDS OF TWILIGHT FANS TO UNVEIL WAX FIGURE OF HOLLYWOOD HEARTTHROB "R-PATTZ" AT MADAME TUSSAUDS NY

Crowds of screaming fans will flood Times Square to help unveil a wax figure of Hollywood heartthrob Robert Pattinson on Thursday, March 25 at 10:30 a.m. at Madame Tussauds New York, 234 West 42nd St. (b/w 7th & 8th Aves.), Manhattan. After the unveiling, fans will be able to cozy up to R-Pattz's figure for photos and even a hug. Once immortalized (in wax), the Twilight vampire and Remember Me star will join the likes of Johnny Depp, George Clooney, Sean "Diddy" Combs and Leonardo DiCaprio – all of whom have wax figures in the famed Times Square wax attraction.

Pattinson's figure is dressed in black trousers and fitted shirt. A jacket in a contrasting color finishes off his young, hip look. R-Pattz's wax likeness also sports the actor's signature tousled locks, which fans are invited to run their fingers through. Each strand of hair was inserted one-by-one by the Tussauds studio artists, who created the figure. They spent hundreds of hours studying photos and watching video footage of Pattinson to create the incredibly lifelike figure, which is posed standing up with hands on hips and will be housed in the "Opening Night Party" section of Madame Tussauds New York.

The first 100 fans who arrive to see R-Pattz's figure on the day it is unveiled will receive free Pattinson and Twi-hard gear, as well as free admission to the attraction. Fans both young and old, often referred to as "Twi-hards," can't seem to get enough of R-Pattz. The young British actor became an overnight sensation following his portrayal of Edward Cullen, the beloved vampire in the film adaptation of Twilight. With a loyal following stretching across multiple continents, Pattinson is one of today's hottest stars. In fact, Madame Tussauds London will also unveil a figure of R.Pattz on the same day as Madame Tussauds New York.

R-Pattz's fans and representatives from Madame Tussauds NY will be available for interviews on site.


Thoughts? Do you disagree? Are those bears in the woods killing the hikers? Or are they giant wolves? Is that Rob at all? Comments?